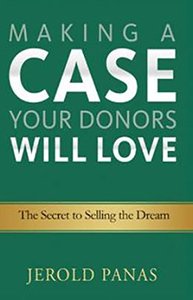 Jerry has done it again— in a book you will love. It is immensely helpful, witty, and just plain fun to read. It is a step-by-step journey in motivating the donor to move from the mind to the heart to the checkbook. (Don't loan it to a colleague. You won't get it back!)
What makes the book alone well worth the price is the CasEvaluator, a remarkable instrument for assessing the effectiveness of your Case. There are also over 100 suggestions for titles.
And dozens of samples of opening and closing paragraphs. Typical of Jerry, he is a wise and empowering wordsmith— and manages to break some hoary rules along the way.
No matter what your interest and requirement— Case Statements, brochures, Appeal-Letters, Acknowledgements, Planned Giving Invitations— for anyone who writes (or loves good writing).